Written by

Advanced Family Eye Care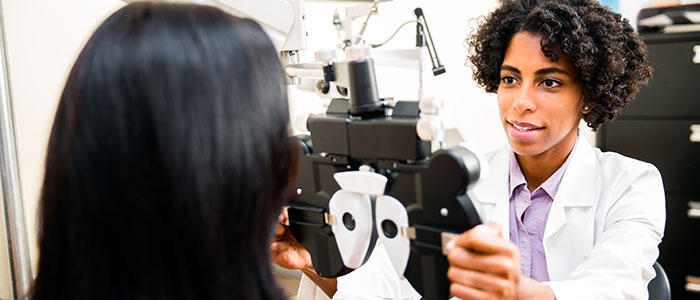 Knowing the difference between the various specialties in the eye care industry can be confusing, especially given the fact that they all start with the same letter and in many ways sound alike.
So, here's a breakdown of the different monikers to make life a little less confusing for those wanting to get an eye exam.
Ophthalmologists
Ophthalmologists (pronounced "OFF-thal-mologists") are eye doctors who went to four years of undergraduate university, four years of medical school and four to five years of ophthalmic residency training in the medical and surgical treatment of eye disease.
Many ophthalmologists then go on to pursue sub-specialty fellowships that can be an additional one to three years of education in areas such as cataract and refractive surgery, cornea and external disease, retina, oculoplastic surgery, pediatrics, and neuro-ophthalmology.
Ophthalmologists are licensed to perform eye surgery, treat eye diseases with eye drops or oral medications, and prescribe glasses and contact lenses.
Optometrists
Optometrists are eye doctors who went to undergraduate university for four years, then went on to optometry school for four years.
Many optometrists choose to pursue an additional year of residency after optometry school, though this is not a requirement for licensure. Optometrists are licensed in the medical treatment and management of eye disease, and prescribing glasses and contact lenses.
In some states, optometrists can perform certain minimally invasive laser surgical procedures, but on the whole, optometrists do not perform eye surgery. In addition, optometrists usually have different sub-specialties than ophthalmology, including vision therapy, specialty contact lenses, and low vision.
The analogy I use most often in comparing optometrists to ophthalmologists is that of a dentist and oral surgeon. Many people choose to have optometrists as their primary eye care provider and to undergo medical treatment of eye disease, but when surgery is needed, they are referred to the proper ophthalmologist.
Opticians
Opticians specialize in the fitting, adjustment, and measuring of eye glasses. Some states require that opticians are licensed, and others do not.
If you have any questions about which professional is the right fit for your needs, check with your eye-care professional's office and they'll be happy to answer them for you.
Article contributed by Dr. Jonathan Gerard
This blog provides general information and discussion about eye health and related subjects. The words and other content provided on this blog, and in any linked materials, are not intended and should not be construed as medical advice. If the reader or any other person has a medical concern, he or she should consult with an appropriately licensed physician. The content of this blog cannot be reproduced or duplicated without the express written consent of Eye IQ.
Read more: The Three O's of Eye Care: Ophthalmologist, Optometrist and Optician
Written by

Advanced Family Eye Care
We're all aware that too much sun can cause skin cancer, but did you know the sun's ultraviolet rays can also do lasting damage to your eyes?
That's why it's important for everyone to wear sunglasses and other lenses that block UV rays.
What is Ultraviolet Light?
UV radiation refers to the invisible rays that come from the sun and can harm our eyesight. Most notably, these rays are UVA and UVB.
UVA rays can hurt your central vision by damaging the lens and retina, which can lead to cataracts and macular degeneration. UVB rays can damage the front part of your eye, possibly leading to growths on the eye surface and causing corneal issues and distorted vision.
UV rays can come from many directions. They radiate directly from the sun, but they also are reflected from the ground, water, snow, sand and other bright surfaces. These rays can affect your eyes even when it's cloudy.
These are some of the problems caused by UV rays:
Macular Degeneration, which is a loss of central vision.
Cataracts, which blur your eye's lens and cause cloudy vision.
Pterygium, a growth of pink, fleshly tissue that begins on the white of the eye.
Photokeratitis, or "Sunburn of the eye," which causes red eyes, sensitivity to light and excessive tearing.
The longer your eyes are exposed to solar radiation, the greater the risk of developing cataracts or macular degeneration later in life. That's why it's important for adults and children to wear sunglasses with up to 100% UV protection. And if you wear regular glasses or contacts, those lenses should have UV protection as well.
Preventing the damaging effects of ultraviolet light is simple. First and foremost, you should limit your exposure to the sun, and when you are in the sun you should wear proper eye protection and a broad-brimmed hat to block the sun's rays from your eyes as much as possible.
Eyewear created to block UV rays gives you the most protection. All types of eyewear - including prescription and non-prescription glasses, contact lenses and lens implants - should block UVA and UVB rays.
Children and teenagers are at special risk from the harmful effects of UV rays, since their eyes do not have the same ability as adults to filter out some UV radiation. They also often spend more time outside than adults. Parents should teach kids the importance of wearing sunglasses and hats to block the sun's rays. And any glasses they wear should be designed to block UV rays and glare.
You should choose sunglasses that:
Block 99% to 100% of both UVA and UVB radiation.
Are polarized to reduce glare and brightness.
Are impact-resistant to further protect your eyes.
Are comfortable to wear.
Do not distort colors.
Things to consider when buying eyewear for outdoor activities:
Wraparound frames provide more sun protection and can help block wind and debris.
Lenses made from polycarbonate material are more impact-resistant and are lighter weight.
Color makes a difference. Gray or green lenses are good for bright conditions, while yellow, amber or orange-red tints can increase contrast and clarity. The color you choose depends on your needs.
Adding polarization to your lenses reduces glare and filters haze.
Come in and talk to us. We want to help you find the lenses that are right for your needs and to make sure your eyes get the ultimate protection.
Location & Hours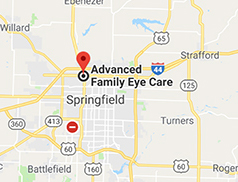 1724 W. Kearney St. Ste. 116
Springfield, MO 65803
Phone: (417) 865-4448
| | |
| --- | --- |
| Monday | 9:00 - 5:00 |
| Tuesday | 9:00 - 5:00 |
| Wednesday | 9:00 - 5:00 |
| Thursday | Closed |
| Friday | 9:00 - 5:00 |
| Saturday | Closed |
| Sunday | Closed |
Get Directions