The jury is still out on that question. There is some supportive experimental data in animal models but no well-done human studies that show any significant benefit.
What you shouldn't do is pass up taking the AREDS 2 nutritional supplement...
Read more: I Have Macular Degeneration - Should I Take Bilberry?
We have all heard the term "Love is in the Air," but can love really be in the eyes? Actually, Science has proven it so. Certain chemicals (or endorphins) that produce the emotion of love can be emitted through emotions expressed in the eyes....
Location & Hours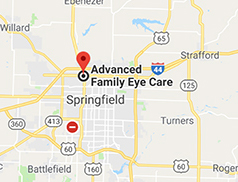 1724 W. Kearney St. Ste. 116
Springfield, MO 65803
Phone: (417) 865-4448
| | |
| --- | --- |
| Monday | 9:00 - 5:00 |
| Tuesday | 9:00 - 5:00 |
| Wednesday | 9:00 - 5:00 |
| Thursday | Closed |
| Friday | 9:00 - 5:00 |
| Saturday | By Appointment |
| Sunday | Closed |
Get Directions