A common question asked during the eye exam is, "When is the puff coming?"
Patients are referring to air-puff or non-contact tonometry. Tonometry is the procedure used to measure eye pressure, and this is important to diagnose and monitor...
Do you have floaters in your vision?
Floaters are caused by thick areas in the gel-like fluid that fills the back cavity of your eye, called the vitreous.
Many people, especially highly near-sighted people, often see some degree of floaters...
Location & Hours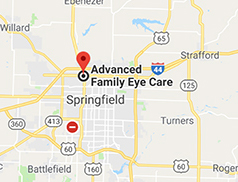 1724 W. Kearney St. Ste. 116
Springfield, MO 65803
Phone: (417) 865-4448
| | |
| --- | --- |
| Monday | 9:00 - 5:00 |
| Tuesday | 9:00 - 5:00 |
| Wednesday | 9:00 - 5:00 |
| Thursday | Closed |
| Friday | 9:00 - 5:00 |
| Saturday | By Appointment |
| Sunday | Closed |
Get Directions